Every man needs a keyring. Well, it's not technically a keyring, but an "accessory-ring" – keys are an optional extra. The purpose of this accessory bundle is to carry just enough tools essential for day-to-day tasks without requiring a bag or a pouch. I started to build up this collection a couple of years ago, and every now and again items get removed, and others added. This is my current setup: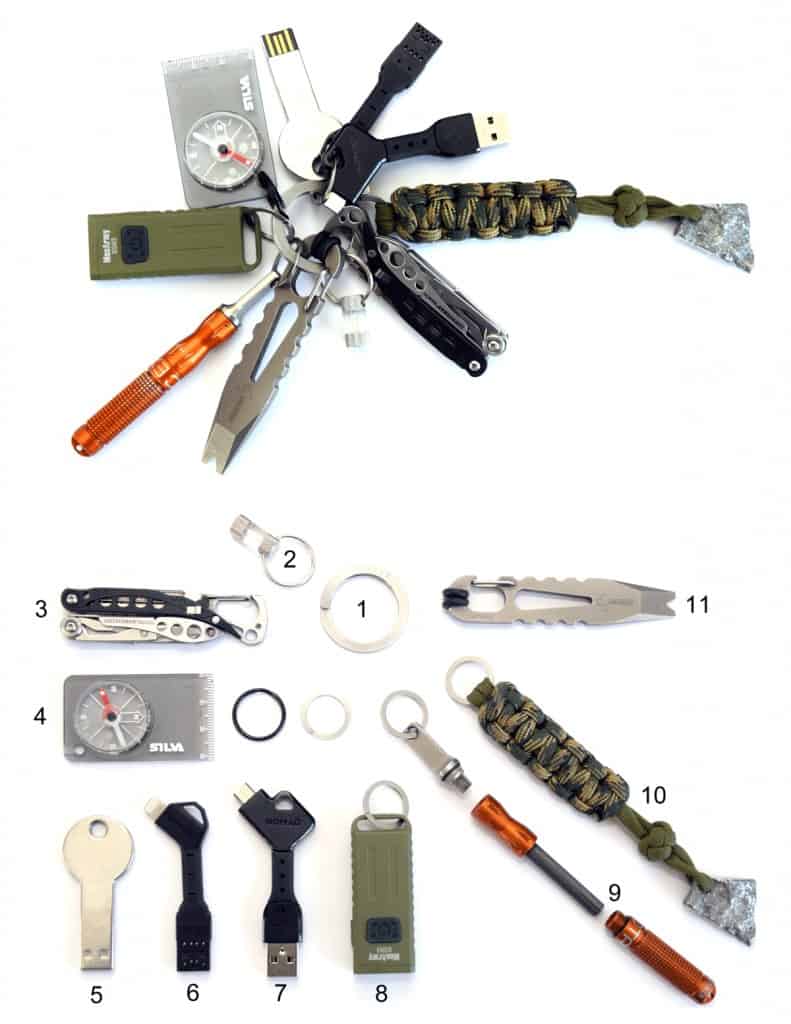 1: The FREEKey System (http://freekeyusa.com) ties all these items together. A rugged and simple solution when you want to frequently add and remove accessories from your keyring.
4: A Firefly Miniglow from nite (niteglowrings.com) using a tritium light source for the constant glow to assist in locating the keyring in darkness.
3: Leatherman Style PS Multi-Tool (leatherman.co.uk). This keyring sized multitool contains pliers as its main tool, but instead of a knife blade has a small set of scissors, as well as tweezers, a nail file, wire cutter, bottle opener and a small slotted screw driver. This tool is UK carry legal and can be brought on hand luggage onto an aircraft.
4: Silva Carabiner 28 Mini Compass.
5: Lacie 8Gb USB Key. I don't carry data around on this, but use it for temporary transfers when out and about if needed (rarely used with cloud based services being so readily available).
6 & 7: Nomad Chargekey (hellonomad.com), Micro-USB and Apple Lightning ultra-rugged and miniature charging cables. Perfect to hook up to a laptop or charger when you run out of juice.
8: MecArmy SGN3 Torch (mecarmy.com) This incredible 160 lumen, rechargeable keyring torch is my latest purchase. In addition to the white LED, red and UV modes are also included.
9. Exotac nanoSTRIKER (exotac.com) a self contained Sweedish fire steel flint and tungsten carbide striker.
10: Paracord Keyring (doghousegallery.co.uk) Made from hand woven 550 paracord and finished off with an authenticated piece of melted metal from the engine block of a hurricane aircraft downed during the Battle of Britain, this keyring is both useful and holds some significance.
11: Boker PLUS Vox Access Tool (boker.de) This titanium pry-bar tool and integrated carbide window breaker tool is a valuable addition. Super strong and incredibly light, this tool can open paint tins, remove stubborn nails, smash car windows (or any toughened safety glass) in an emergency or be used for any other task requiring a good pry!