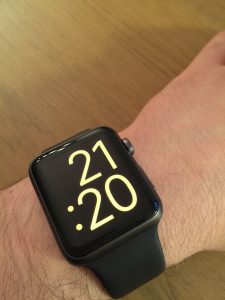 In January 2016, I purchased the Apple Watch Sport 42mm for £232.00 (I got a small discount!) from the Apple Store, and haven't looked back. I certainly wasn't an early adopter of this technology, nor was I super keen to initially to buy into this new technology, skeptical of its value and usefulness to replacing and enhancing my existing technology. I am also a self professed Apple 'fan boy.' A Macbook Pro, iPhone 6 Plus, Apple TV, iPad and iPods all have a place in my life, some now more than others, but 4 months in to my Apple Watch experience, I thought I would summarise my thoughts and share them with anyone who is perhaps considering the moderate investment.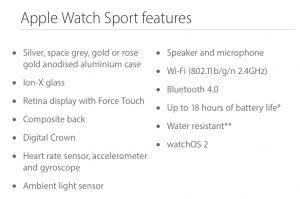 Aesthetics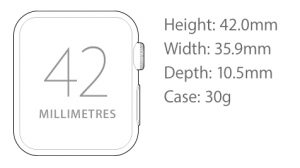 The Apple Watch is beautiful. It holds the same high quality finish that we have come to expect from all Apple products, and is remarkably light (30g excl. band for the 42mm case); even my titanium Casio G-Shock is heavier and bulkier than this wearable micro-computer. On the front, the gloss finish Ion-X glass glistens and highlights the deep black of the Retina force touch display. If this display was any less black it just wouldn't have the same impact. As a right handed user, I wear the watch on my left wrist. The wrist on which the user wears their watch is selectable, having the result of rotating the display 180 degrees ensuring the Digital Crown is always accessible being on the outside of the wrist. The orientation of the band is also not a problem as this can easily be removed and turned around. When it comes to the black anodised aluminium body, this is lightweight and beautifully finished. There are a number of cutouts in this single billet of machined aluminium; the digital crown, the 'home button,' microphone, speaker, rear heart rate sensor array, two watch band release buttons and the two watch bands themselves. It sounds like a lot, but in reality they aren't overtly noticeable, nor do they make the case look cluttered. They do, however, contribute to the lack of complete waterproofing, but the watch still claims to be water resistant and can be used in the rain and wet, provided it is not subject to complete submersion.
Functionality
There is no point in having a smart watch if you don't embrace the functionality. Having not owned any competitors smart watches, this experience is gleaned from the Apple Watch and I'm not able to compare. However, I don't think this detracts from my appraisal.
Physical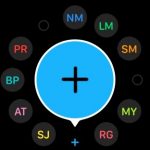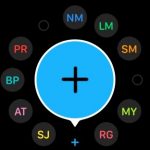 Despite its simple appearance, physical interaction with the Apple Watch is more intricate than you might think. The Digital Crown enables zooming, scrolling and selection functions, while the Side Button enables quick access to your favourite contacts and acts as a power button (long press). The crown has a subtle presence, and I find that it doesn't catch and certainly any accidental activation of the crown under my shirt doesn't appear to be to any detrimental effect. The scroll functions seems to be reactive, by that I mean scrolling starts off slowly and ramps up speed the further down the text you scroll. The crown can be utilised in almost all apps that require scrolling or selection, but don't forget that the touch screen can also be used for scrolling and tapping to select.
The Retina Screen boasts 3D touch, which allows the user to tap to select or press and hold for more secondary features. The resolution, as expected, is stunning. Given the size of the screen with a resolution of only 312 x 390 pixels, an incredible amount of detail is squeezed in. Colours are vibrant and contrast crisp, with scrolling and tapping being very responsive, even with my Zagg screen protector fitted. However, what I did find, when my hands were cold and damp, responsiveness of the capacitive touch screen was reduced; but this can also be expected with any touch device.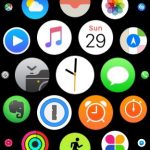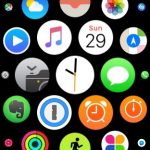 One issue some people found which I also experienced, is the false selection of icons on the home screen. This is a combination of 'fat fingers' and small icons rather than technological error. With a little practice it is possible to ensure you select the correct icon with just one touch, but sometimes it gets quite frustrating. This is something which would only be compounded when selecting apps on the move or in situations when you cant fully focus on the watch face.
On to the release of the bands (or straps to the rest of us). On the rear of the body are two release buttons, one for each end of the band. These buttons only require to be depressed 1mm or so to disengage the band, which can then be slotted out. The disengagement and removal of the bands is very simple and the bands are secure when fitted. Even if the release buttons were to be disengaged during use, the band will not release straight out as they require to be slotted sideways. The supplied polymer sports band is actually very comfortable and durable, ideal when wearing the watch for those sweaty sporting activities.
Native Apps
The built in or 'native' apps on the watch are appropriate to the overall function of the watch. In summary however, here are my favourites (in no particular order), and why:
Notifications on the Apple Watch mirror those on the phone, and while not all 3rd party apps allow you to read or reply to them, when your phone is on silent it is very useful to flick up your wrist and see wether that buzz in your pocket warrants getting your phone out. For those apps that do support the preview function, such as Messages or Mail, the ability to read and even reply to messages from your wrist or via Siri is very useful. I operate the Watch with an iPhone 6 Plus, and the size of this phone means I can't always have it in my pocket and often leave it in a bag or on the desk; receiving notifications on my watch saves me running back every time my phone pings, I can triage my incoming communications.
Siri has come on a huge amount since its inception, and her inclusion in the Apple Watch means right on hand (no pun intended) you have access to the vast range or voice commands and controls without having to physically activate your phone. Using the 'Hey, Siri' command at any time, your watch will spring into action and await your command. Primarily I use this function for setting timers while cooking – 'Hey, Siri. Set a timer for 15 minutes' for example or while driving and when needing to send a quick message I can call up Siri and send short messages to contacts in my phone.
The Music ability of the Apple Watch is surprising. While the total internal storage is 16Gb, up to 2Gb can be allocated (via the iPhone companion Watch app) for the local storage of music. While no headphone socket exists, pair a set of bluetooth headphones and you can detach yourself from your phone and still have your favourite motivational play lists to hand.
The Wallet app on the Apple Watch utilises touch pay for single payments up to £30. As well as contactless payments, the wallet can be used for electronic tickets and boarding passes.
While both the Watch and iPhone have step counters to measure distance travelled, the Workout app utilises the phones GPS in conjunction with the step counter for two things. It enables accurate measurement of your distance travelled, as well as providing an estimate of calories burned. While the app doesn't need to be used all the time with the paired phone, the longer Workout is used the more accurate the step counting becomes, as the GPS assists in the calibration of the counter.
Maps works in conjunction with the Maps app on your phone. While basic navigation features are accessible from the watch itself, where I find it does come into its own is when a route is selected on the phone and you start navigation. The watch acts as a remote display, sounding notifications and vibrations with each direction as it comes. Perfect for driving when you don't need or want the full phone display. One poor note with this app is the very slow speed of maps loading on the moving map display on the watch. I have rarely got this feature to work satisfactorily, however the written directions and lane guidance images which are provided are more than satisfactory; indeed they are easier to follow. Not only can the maps app be used while driving, but when exploring or following directions around a city, the phone can be secure in a pocket and you only need to follow the directions on the watch.
Phone; yes, you can make and receive calls on your watch! This is definitely one of the cooler features of the watch. While the volume isn't terribly loud, the calls are clear and both calling and receiving is clear. Perfect for quick calls while busy doing other things. Making calls is very easy using 'Hey, Siri' and answering calls can be vetted using the familiar onscreen slider and caller ID.
Messages can be received, read, deleted, or replied to using the watch. Replies are either selected from the bank of pre-typed replies, of which you can customise them all, or dictated using Siri.
Having a Camera Remote app is limited in its use, never the less it is a great little feature. A minimum-lag live feed view of your phones camera and the ability to start and stop video or take photographs is pretty neat, and useful in those awkward selfie or group photo situations. You can also view the latest 100 photographs on your watch using the Photos app.
The Heart Rate app constantly monitors heart rate throughout the day at 5 minute
intervals. This sample rate is increased in the workout app where you can monitor your 'live' heart rate. While the long term monitoring results of this can't be viewed on the watch, they feed directly into the Health app on the iPhone.
3rd Party Accessories
Zagg InvisibleShield (RRP £14) A high quality screen protector, while high in price comes with a lifetime warranty (send it off for a replacement if damaged) and is a high quality protector. I use Zagg screen protection products for all my electronics.
Hoco Stainless Black Bracelet (RRP $79) This is a cheaper end (yeh, not at the RRP!) metal link bracelet which is actually very well suited to the Apple Watch. While the band itself weighs about three times that of the watch itself, it is secure when fastened and enhances the design of the watch.
STRPS Nylon NATO Strap (£19) A good value, high quality military-style watch strap. Other colours are available, but I chose the olive green and use this strap most out of them all as it is hard wearing, secure and great for the outdoors.
Actionproof Bumper (£18) A great rugged bumper to protect the body of the watch itself, but also protects the edges and the screen. I rarely use this bumper as it adds a lot of bulk to the watch, but it is there when I want that extra protection.
Spigen Liquid Crystal Case My slim line bumper for protection, however the rubberised finish of the protector isn't the most comfortable against hairy arms, and while it is transparent it detracts somewhat from the overall design of the watch.
Decoded Leather Strap (£39) A beautiful, soft leather, high quality watch strap. I use this a lot when wearing the watch in smart situations. The light brown leather is elegant and the black fixings match the watch really well.
TECHLINK Recharge 1000 Case and Charger (RRP £49) A 1,000mAh battery contained in a tubular case into which you can plug your Apple Watch USB charger and wrap the surplus cable around the inside of the barrel. The charging barrel itself is recharged and powered by a Micro-USB lead making it quite versatile. The whole unit, watch included is then stored, if you chose, inside the zipped PU- leather case for added protection. This case and charger is great for weekends away and will give about 2 nights of charge.
Summary
The Apple Watch is a luxury item, there is no doubt about it. However, it integrates seamlessly with the iPhone as a daily companion, and can also be used on its own as a bluetooth music player and fitness tracker. If you even just consider the separate cost of a fitness tracker, heart rate monitor and iPod Nano for those fitness activities, then this device will do them all, and do them all very well. In addition to this you get a camera remote, smart watch, handsfree phone and voice recognition personal assistant; and this isn't taking into account the vast amount of 3rd party apps which are being regularly developed. As a smart watch, out of 10, it has to be a 10.