Newsletter, Edition 1
Welcome to the first edition of my email newsletter from Frontline Ulster. When you entered your email address and clicked subscribe all that time ago, I hope you had in mind that you would receive some form of communication to keep up to date with all things Frontline Ulster. If not, then you can manage your subscription or unsubscribe using the link at the bottom of this newsletter; I'll be sorry to see you go.


Why start a newsletter? The aim of the newsletter is to give something back to those of you who have chosen to support me and with whom I share this interest; either professionally or much like myself as an enthusiastic amateur.


I started the website in 2017, with the intention of focusing my interest in all areas of military history, in particular across all periods of Northern Irish history. And in the last 12 months, courtesy of lockdown, I have had the opportunity to spend some quality time curating my site, expanding my web development skills and conducing research into areas that I felt were under represented in the local military history community. And it is only now, still with fewer than 20 subscribers, that I feel it is right to take the next step. My redesign of the website in February this year, the introduction of site branding and the publication of a newsletter are all part of my drive to raise awareness and grow a like minded and enthusiastic community.


In each of the first three months of 2021 there were over 1,500 unique visitors to the website, with nearly 11,000 between April and December 2020. This is a huge number, it far surpasses my expectations, but I think it also represents the size of community we have with a broad range of people interested in military history. Strangely an article I wrote in the early days of the website to characterise military boundary stones continues to pull the greatest number of external visitors.


What's next? I don't plan to publish this newsletter on a regular basis, perhaps bi-monthly or quarterly. As subscribers to the site you should also receive notification when a new article is published. As the community grows I will consider creating an online forum where questions can be asked and ideas discussed, and I am willing to take feedback if you have any thoughts on this or anything else concerning the website or this newsletter.


I hope you enjoy some of the items I will share below, and until next time.


Author of Frontline Ulster
Mapping Northern Irish Conflict
I have always enjoyed maps. Their simplicity conveys so much information useful to the traveller or to the inquisitive armchair explorer. Of course, as with all sources of information, they come with a caveat; they only show us what the author wants us to see. And this is very evident in Northern Irish mapping through the centuries when searching for military sites. In the C19 the only sign of a military establishment was a ring of "WD BS" marks around an otherwise blank piece of landscape. The rapid expansion of training estate during the First World War saw vast camps built and removed quicker than they could be incorporated into any enduring map, and as the scheme of dispersed construction for the Second World War left its mark, we see some of these remains being recorded.


I have recently decided to rationalise and publish the information I have collated regarding known sites with military connections in the form of the Frontline Ulster Map Project. An interactive database and map that will enable people to search for sites from the various periods of history as well as searching for sites around them. This is a soft launch of a resource that has taken many days and probably weeks of work in total, and I really would value your feedback. There are still some issues to iron out, but for all 1,200 markers I endeavour to complete some background information and source an image for each. I hope this will be a frequently visited resource and will help people explore the military heritage around them.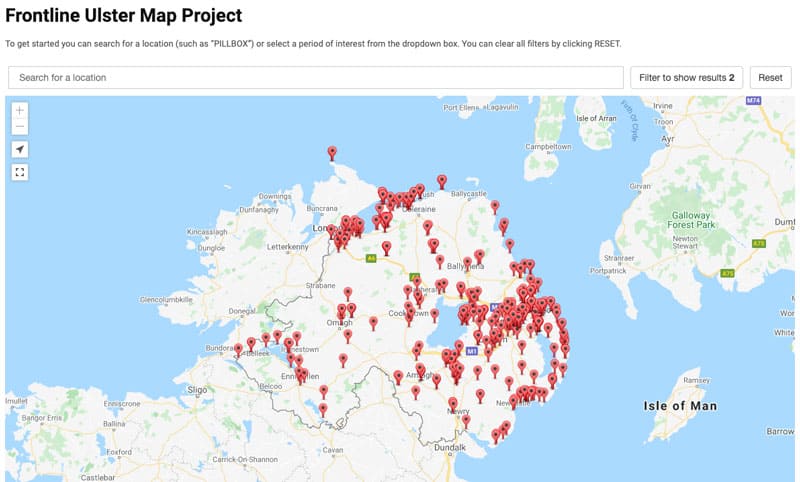 What was the purpose of this building?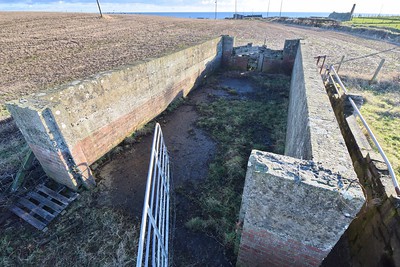 You may or may not have noticed this unassuming building at the side of the road if you have ever visited St Johns Point on the County Down coast. I have done some digging and offer an explanation, but I'd love to hear your views.
Thank You
One thing I always find pleasing is receiving emails from across the country from people who have stumbled on my website and it has stimulated their memory or answered a question they had. I thought it would be nice to share some of these from the past few months with subscribers of the site, I hope you recognise who you are.

Erratum
One of the pitfalls of conducting research is that inevitably I will make mistakes or misinterpretations. While this is a hobby, I still try to uphold a high standard of work. As new evidence comes to light, or as errors are pointed out, I will endeavour to make corrections.

I was recently informed that the communications site I had identified at Island Hill was not the illusive direction finding station that had relocated from Gilnahirk in the late 1940s, but one of two RAF radio navigation stations around Comber. I have taken this article down until I can make appropriate amendments.
On p48 of my photographic book I make reference to a military mast on Craigantlet. I have been reliably informed that this was part of the ILS (Instrument Landing System) for Belfast City Airport. On the same page, the green dome at Divis Key Point has been identified as a fibreglass radome which once house a satellite dish or antenna.
The image of the hangar on pp84-85 in the same book was incorrectly labelled as being part of Royal Naval Air Squadron (RNAS) Ballykelly. This should have read Royal Naval Air Service. This however is also incorrect as the hangar was constructed for the Royal Air Force (RAF) who operated the airfield from construction until 1971. The RNAS were lodgers for a short period of time in the 1960s.
If you have spotted anything that you think should be corrected, please let me know by sending me an email or filling out the contact form on the website.